The Watermark Bar & Grill, 843-825 3535 1033 Black Oak Rd, Bonneau, SC 29431 located on beautiful Lake Moultrie, the lower lake of the great Santee lakes in South Carolina.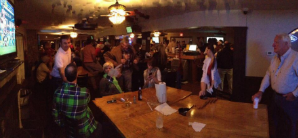 Our hours are Sun- Wed 11 am to 11 pm, Thurs- Sat 11 am to 2 am and make sure you check us out for our Happy Hour Weekdays from 4 to 7 pm!

Our restaurant is open 11am-11pm everyday for dine-in or carry out. Our menu features a variety of favorite foods such as steak, seafood, pasta, salads, sandwiches, burgers, wings, and quite a few more items. Try us and you'll be convinced! Our recipes are authentic and time-tested. The ingredients are always fresh. The result? A menu that bursts with flavor.

We offer a large liquor selection, plenty of ice cold beer, and wines by the glass or bottle. The establishment is NOT a white collar, non-smoking place...I repeat NOT! Come as you are, relax, and enjoy the view. Bring on the fun!!!

Let's talk service. Our staff is excited to meet and serve customers. Our dedicated staff is attentive and knowledgeable. Did we mention friendly? When you dine with us, you're always in good hands.

While we are in the process of developing our new website and mobile website where you can stay informed of our daily drink and food specials, events, live waterfront entertainment, and special promotions- give us a call 843-825-3535.

We are here for the patrons to have an enjoyable time. No matter what the weather, the view, as always, is remarkable. Several repairs have been made to the dock and we plan to continue improving the area. We expect to have plenty of safe space to tie boats up for the summer. Stop in the next time you're in the neighborhood and enjoy an old favorite. Or, discover a new one. Either way, we'll treat you to a dining experience that's unparalleled.
Come on down to the lake- where you can relax and enjoy the view....